The Fujifilm GFX50S II is a medium format camera that is designed for professional photographers who want to capture high-quality images that are rich in detail and colour. This camera is the successor to the GFX50S and has several updates that make it even more appealing to photographers. The body is solid and features comprehensive dust and water protection. Fujifilm has opted to retain the same 51.4MP sensor that was featured in the original GFX 50S camera, and this is a positive decision. The image quality is exceptional, with the ability to achieve a shallow depth of field regardless of focal length.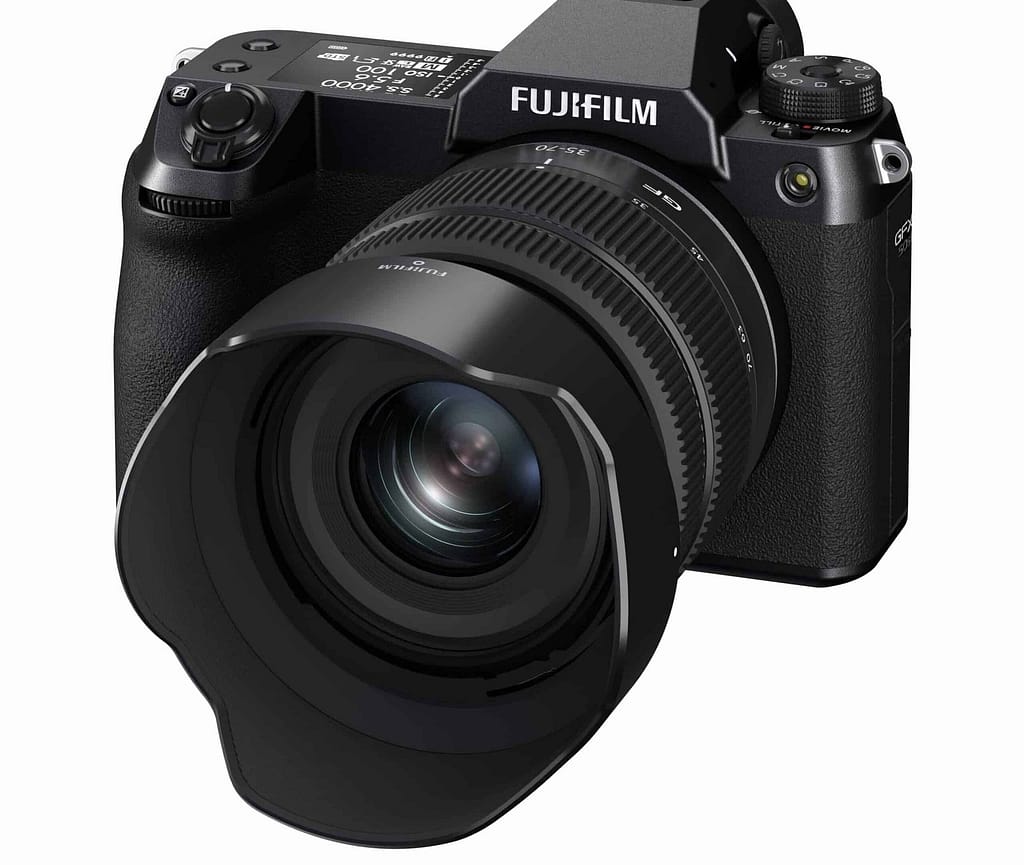 Features
One of the most notable features of the GFX50S II is its 51.4-megapixel sensor. This sensor is larger than those found in full-frame cameras, which allows it to capture more light and detail. Additionally, the camera has a wide dynamic range, which means that it can capture both bright and dark areas of an image without losing detail.
The GFX50S II also comes with a number of other features that make it an excellent choice for professional photographers. It has a tilting touchscreen display that makes it easy to compose shots from various angles. It also has a high-resolution electronic viewfinder (OLED 3,690,000 Dot) that provides a clear, accurate view of the scene.
The GFX50S II has 19 Film Simulation presets, including the ever-popular film simulation Nostalgic Neg.
AF Performance
The camera AF system uses contrast-detect autofocus, which is slower than phase-detect AF. Fujifilm has upgraded the AF algorithms to enhance performance. The GFX50S II does feature the latest X-Processor 4 imaging engine, which improves AF performance compared to the previous model. The camera does not offer 4K video capabilities due to the older sensor, and the continuous shooting speed remains limited to 3 fps.
IBIS
The GFX50S II now boasts a Pixel Shift Multi-shot function. This produces 205MP images by capturing 16 RAW images as the sensor shifts by 0.5 of a pixel. The final composite image images are not done in camera and must be done in post using Fujifilm's Pixel Shift Combiner software. Video copyright Fujifilm.com
OLED Panel
The top of the Fujifilm GFX50S II features a clear OLED panel that displays the camera settings. The OLED panel is extremely clear and can be inverted by pressing the button on the right side of the viewfinder housing. The panel remains visible even when the camera is off.
Card Slots
There are two (2) SD card slots and both support UHS-II cards, I would have preferred at least one (1) Cfexpress Type B slot for faster data transfer speeds.
GFX50S II IO
The Fujifilm GFX50S II includes the following ports,
ø3.5mm, stereo mini connector (Microphone)

ø2.5mm, Remote Release Connector
Hot shoe
Synchronized terminal
USB Type-C (USB3.2 Gen1x1)
HDMI Micro connector (Type D)
Image Examples

Image Samples – Lens GF35-70mm f/4.5 – 5.6: The Fujifilm GFX50S II renders the images beautifully, the contrast and colour tones are sublime. Details are crisp and the 51.4MB medium format sensor allows a large crop and retains excellent detail.

Conclusion

In conclusion, the Fujifilm GFX50S II is an affordable (in relative terms) medium format camera that produces the very best image quality. The build construction is solid and feels great in the hand. All the dials and switches have a positive feel and action. Fujifilm designed the GFX50S II as a medium format camera for the masses; yes it loses some of the features of its bigger and more expensive GFX100S, but it balances feature and value admirably. The Fuji is priced to compete with high-end full-frame mirrorless cameras such as the Sony AR7 V and Canon EOS R5 and they don't feature a medium-format sensor. This is not, nor should be considered a sports or action camera. The Fujifilm GFX50S II is best suited to Landscape, Portrait and Macro photography.

Stephen

Gaelic Memories Photography

*Fujifilm GFX50SII images and Video Curtousy of Fujifilm.com ©Fujifilm 2023

Full Specifications: https://fujifilm-x.com/global/products/cameras/gfx50s-ii/specifications/