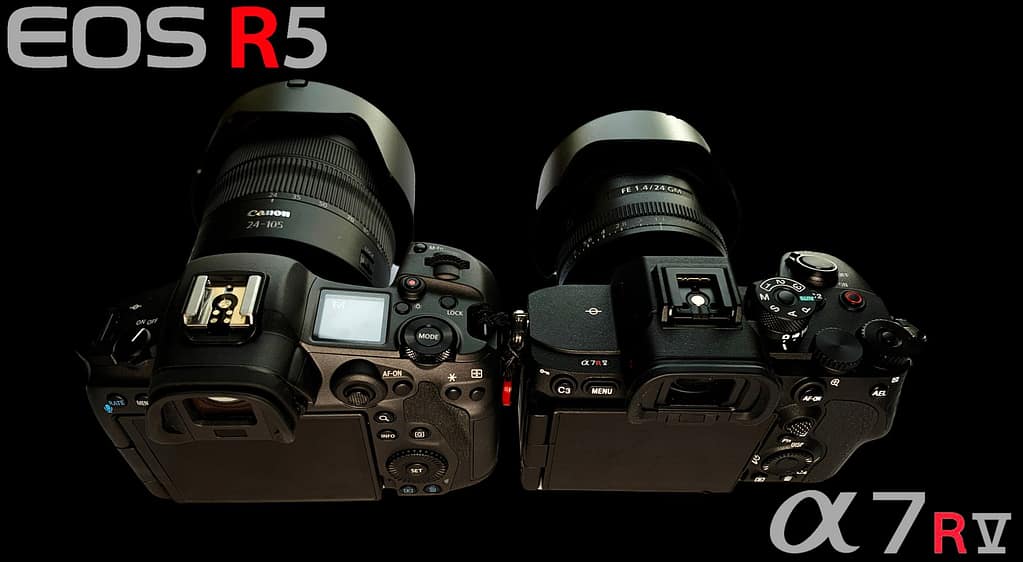 The not-so-old pretender, Canon EOS R5 takes on the newcomer Sony A7R V. Both cameras are designed in the land of the rising sun, the birthplace of fabulous camera technologies. The Canon EOS R5 is made in Japan and the Sony A7R V is built in Thailand. The Canon's pedigree dates to 1959 and has (rightly) gained respect from professionals and amateurs alike. The Sony Alpha brand of cameras gained traction in June 2006 and quickly established ranking number second in worldwide camera sales, overtaking the prestigious Nikon brand.
The build quality of these two professional cameras is excellent, they are weather-resistant and feel great in the hand.  The Canon EOS R5 adopts a more rounded body and grip design approach. In contrast, the Sony A7R V has a more squared-off design. Both grips are deep at 3cm and provide a good grip. However, Sony's grip is short, around 6cm in height; my small finger falls off the grip and I have small to medium hands. The Canon grip is longer at 7cm and is my preferred choice; however, this will be down to the user's preference.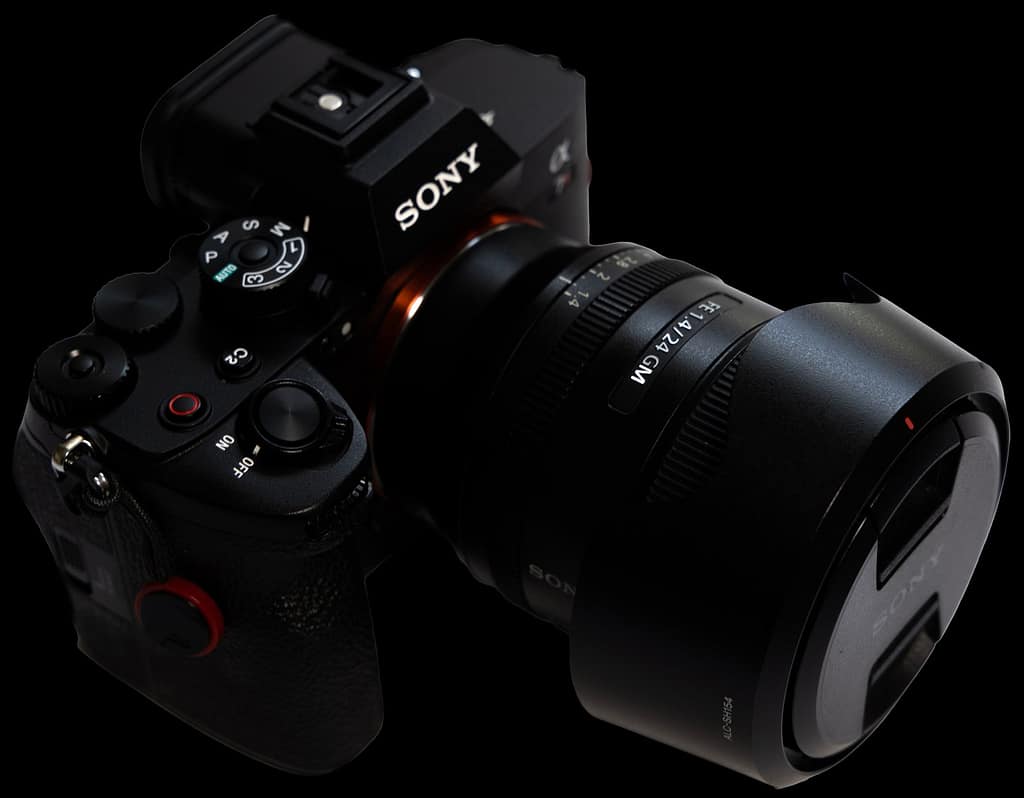 The Sony A7R V is a noteworthy addition to the Alpha series of full-frame mirrorless cameras. It's a step forward from its predecessor, the A7R IV, and seeks to compete favourably within its series. With the same 60MP back-illuminated (BSI) Exmor R CMOS image sensor as the A7R IV, the A7R V. It operates within a native ISO range of 100-32,000, which can be expanded to 50-102,400.
The A7R V is powered by dual BIONZ XR image processors, providing better performance. It also introduces an AI Processing Unit for real-time subject tracking, improving autofocus.
The BIONZ XR processing engine provides an eightfold increase in processing power compared to previous versions. This improvement allows faster overall performance, improved image quality, improved dynamic ranges, and faster processing capable of handling AI tasks and intelligent autofocus, in addition to image processing functions.
The camera has a 693-point hybrid autofocus system that covers a large part of the frame. With an AF sensitivity down to -4 EV and the ability to shoot continuously at 10 fps using the mechanical shutter, or 7 fps when employing the electronic shutter.
Pixel Shift Multi Shooting is an exclusive composite mode that enables the capture of higher resolution images beyond the capacity of the 61MP sensor. Collaborating with sensor-shift image stabilization, this mode shifts the sensor while taking sixteen consecutive shots to accumulate 240.8MP of data, resulting in enhanced colour precision and detail compared to a single exposure. The resulting image is notably large at 19,008 x 12,672 pixels. Subsequently, these images are not processed in-camera, the images need to be combined in Sony's Alpha software.
Hybrid AF System
The AF system covers 79% of the full-frame image area or 100% of the APS-C cropped area. It incorporates 693 phase-detection points for precise and rapid focusing, down to -4 EV sensitivity. This focusing system is available for use in all recording modes, benefiting both video and still photography.
Direct Manual Focus can utilise the lens's focus ring for manual focus control at any time, allowing for easy switching of focus to a different subject, even while working with autofocus.
Continuous AF for capturing moving subjects in photography, the AF system can keep stride with the 10-fps continuous shooting speed, thus ensuring autofocus tracking between each consecutive frame.
In-camera Focus Bracketing This camera offers in-camera Focus Bracketing, able to record up to 299 frames with sequentially shifted focus points. This feature is particularly useful for creating composite images during post-production in Sony's Alpha software, resulting in an extended depth of field.
For videographers, the A7R V offers 8K and 4K video options, as well as HLG support. It now uses CFexpress Type A cards for better performance. It also has improved connectivity with 2.2 MIMI Wi-Fi and USB 3.2 Gen 2.
Video Options
The A7R V offers 8K and 4K video options and HLG support. It now supports CFexpress Type A cards for better performance. It also has improved connectivity with 2.2 MIMI Wi-Fi and USB 3.2 Gen 2.
Sony A7R V Top Ten Features
60MP Full-Frame Exmor R BSI CMOS Sensor
Dual CFexpress Type A/SD Card Slots
8-Stop 5-Axis Image Stabilization
10 fps Shooting with AF/AE Tracking
3.2″ 4-Axis Multi-Angle Touchscreen LCD
9.44m-Dot EVF with 120 fps Refresh Rate
4K 16-Bit Raw Output; S-Log3/S-Cinetone
8K 24p, 4K 60p, FHD 120p 10-Bit Video
AI-Based Real-Time Tracking AF System
BIONZ XR & AI Processing Uni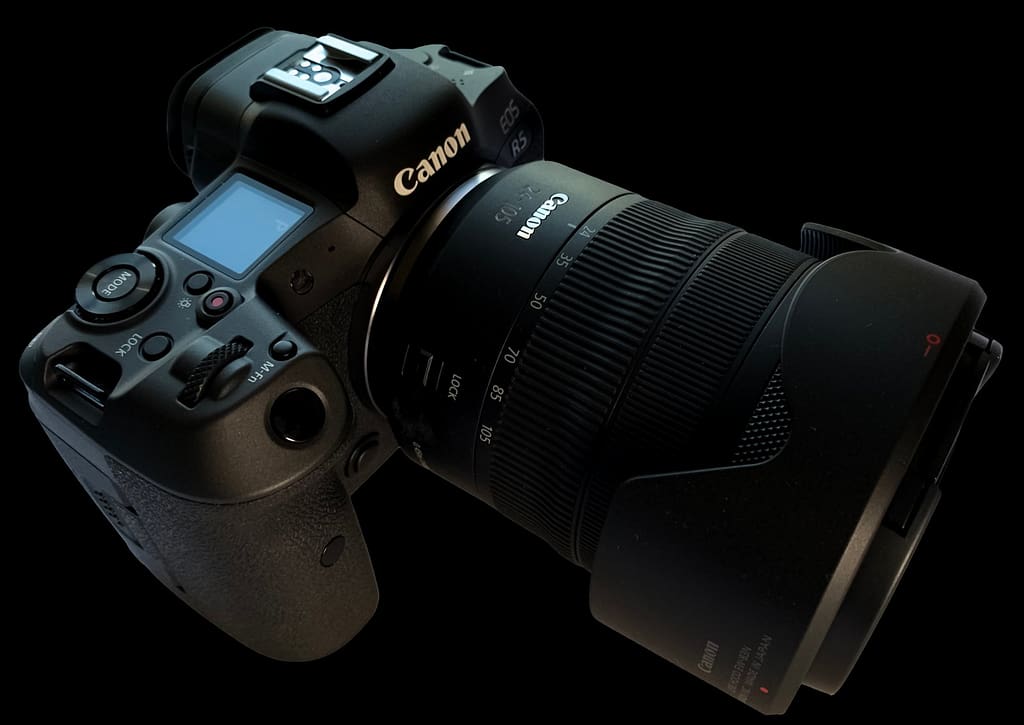 The Canon EOS R5 follows up on Canon's first full-frame mirrorless camera, the EOS R. The Canon EOS R5 comes with a brand new DIGIC X 45MP Dual Pixel sensor CMOS Auto Focus (the sensor is not backside illuminated BSI). With a base operating ISO of 100 to 51000, this can be expanded to 60 to 102400.
In addition to its impressive resolution, the sensor collaborates with the refined DIGIC X image processor to introduce a new era of Dual Pixel CMOS AF. This advanced autofocus system offers swift, seamless, and intelligent focusing performance with a choice of 1053 selectable points that cover the entire field of view. Notably, this focusing system has received enhancements, incorporating Deep Learning technology for superior subject tracking, as well as precise detection of eyes, faces, and heads for both human subjects and animals.
The R5 features a design that's recognisable to current and previous EOS 5-series users. It boasts a high-resolution 0.5″ 5.76m-dot electronic viewfinder (OLED), delivering a lifelike 120 fps refresh rate. Meanwhile, the 3.2″ rear touchscreen LCD monitor is designed with versatility in mind, featuring a vari-angle design that allows shooting from high and low angles. The addition of a top-status LCD is a quick review of camera settings. The camera is equipped with dual memory card slots—one for CFexpress Type B and one for SD UHS-II cards. Bluetooth and Wi-Fi wireless connectivity options are built in.
IBIS High-Resolution 400MP Image Capture With firmware version 1.8.1 or later installed on the EOS R5, it can create in-camera image files of approximately 400 megapixels using the IBIS High-Resolution shot mode. This functionality eliminates the necessity for external software. It proves particularly useful in specific scenarios where an exceptionally high-resolution image with intricate details is essential. The IBIS High-Resolution mode complies and blends the images in the camera.
45MP Full-Frame Sensor and DIGIC X Processor
The EOS R5 is centred around a newly developed 45MP full-frame CMOS sensor, offering high-resolution stills and video output. The finely tuned DIGIC X image processor complements this with exceptional speed. It supports a sensitivity range from ISO 100-51200, expandable to ISO 102400, making it suitable for various lighting conditions. Additionally, it provides quick continuous shooting at up to 12 fps with a mechanical shutter or a silent 20 fps with an electronic shutter, ideal for capturing fast-moving subjects.
Dual Pixel CMOS AF II
The updated Dual Pixel CMOS AF II system boasts 1053 selectable focusing points, covering approximately 100% of the image frame for comprehensive coverage. This system delivers smooth and rapid focusing performance akin to a camcorder. It incorporates two separate photodiodes within each pixel, creating a dense network of phase-detection elements across most of the image sensor. This reduces focus hunting, ensuring faster, more precise control of focus placement. For still photography, this system swiftly and accurately acquires focus, making it perfect for shooting and tracking moving subjects. In video mode, the Movie Servo AF offers smooth and natural focusing transitions between different subjects or distances within the scene, and it allows customisation of tracking sensitivity, AF speed, and Face Tracking priority. The Touch AF system makes rack focusing intuitive by enabling focus changes by touching elements on the touchscreen. Deep Learning technology further enhances subject tracking, refining the system's ability to recognise both people and animals. It also supports improved eye, face, and head detection for portraiture.
8K 30fps Raw and 4K120 Video Recording
The 45MP full-frame sensor enables impressive DCI 8K 30 fps raw video recording internally, along with 4K recording at up to 120 fps in 4:2:2 10-bit with Canon Log. HDR-PQ recording is available in-camera, and external recording via the HDMI port supports clean 4K output at up to 60 fps. You have the choice of All-I and IPB compression options, with the ability to use Dual Pixel CMOS AF when shooting at up to 8K raw.
Sensor-Shift Image Stabilisation
The EOS R5 introduces a five-axis sensor-shift image stabilization system, a first for EOS cameras. It compensates for up to eight stops of camera shake, significantly enhancing stability when shooting handheld with slower shutter speeds. This stabilisation system works with lens-based optical image stabilisation, when using native RF lenses or adapted EF lenses via the Canon Mount adapter EF-EOS R.
Canon EOS R5 Top Ten Features
45MP Full-Frame CMOS Sensor
Dual DIGIC X Image Processors
8K30 fps Raw and 4K 120 fps10-Bit Internal Video
400MP In-Camera Files with No Software
Sensor-Shift 5-Axis Image Stabilisation
12 fps Mechanical Shutter, 20 fps with the Electronic Shutter
Dual Pixel CMOS AF II with 1053 Points
3.2″ Vari-Angle Touchscreen LCD
Subject Tracking with Deep Learning
CFexpress + SD UHS-II Memory Card Slots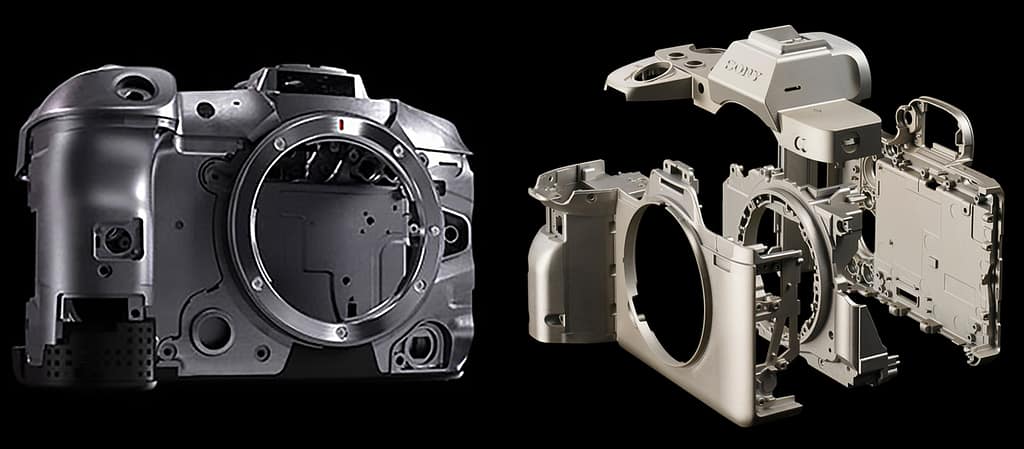 These cameras are aimed at professionals and photography enthusiasts, as such the quality of both cameras is excellent. Built on magnesium alloy body frames they are designed to tackle an odd knock without significant damage. Both bodies are designed to prevent unwanted ingress of water and dust, with comprehensive environmental seals throughout the body. 
Controls Canon EOS R5
The layout of the controls is logical but differs from the brand digital 5D DSLR series, with the Preview/ Play button and delete being placed below the main rotary dial on the lower right. 
Front Control
Canon EOS R5 Top and Rear Controls
The Canon EOS R5 controls are well-placed and have a positive feel. The buttons offer enough resistance to touch, and the dials and rotary wheels have a reassuring click. The joystick, whilst small, is easy to locate with a thumb and again the push button function offers enough resistance.
Canon EOS R5 Rear LCD
The rear LCD screen stands out with an impressive resolution of 2,100,000 dots, providing a clear and sharp visual display. With a diagonal measurement of 3.2 inches, it offers ample viewing space.
The high-resolution display offers distinct advantages when framing shots in live view or reviewing images. Visuals appear crisp and vibrant, highlighting intricate details of the image/view.
The LCD's size is optimised to seamlessly integrate with the camera's design. With its compact form factor, it fits snugly on the camera's rear surface. The LCD screen can rotate to the front of the camera for selfies and rotate for low/ high shooting.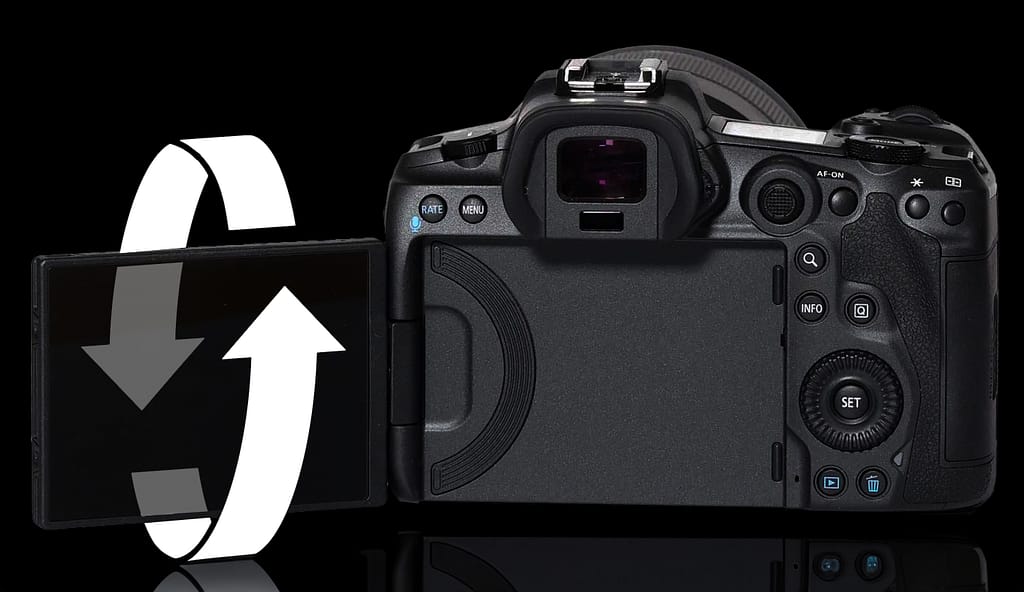 Canon EOS R5 - Viewfinder Information
Shutter speed, Aperture, ISO speed, AF point information, Exposure level indicator, Number of remaining exposures, Exposure compensation, Battery level, Electronic shutter, HDR shooting, Highlight tone priority, Multiple-exposure shooting, Dual Pixel RAW shooting, Self-timer shooting mode, Maximum burst, AF method, Exposure simulation, Drive mode, AEB, Metering mode, FEB, Anti-flicker shooting, Still/video cropping, Shooting mode, Aspect ratio, Scene icons Auto Lighting Optimizer, AE lock Picture Style, Flash-ready, White balance, FE lock, Image Quality, High-speed sync, Bluetooth function, Wi-Fi on/off, Histogram, Electronic level, Focus distance scale in manual focus, IS system, Audio Level – Manual (video), recording time remaining (video), headphone level (video), Video recording resolution frame rate and compression (video) Rec indicator (video)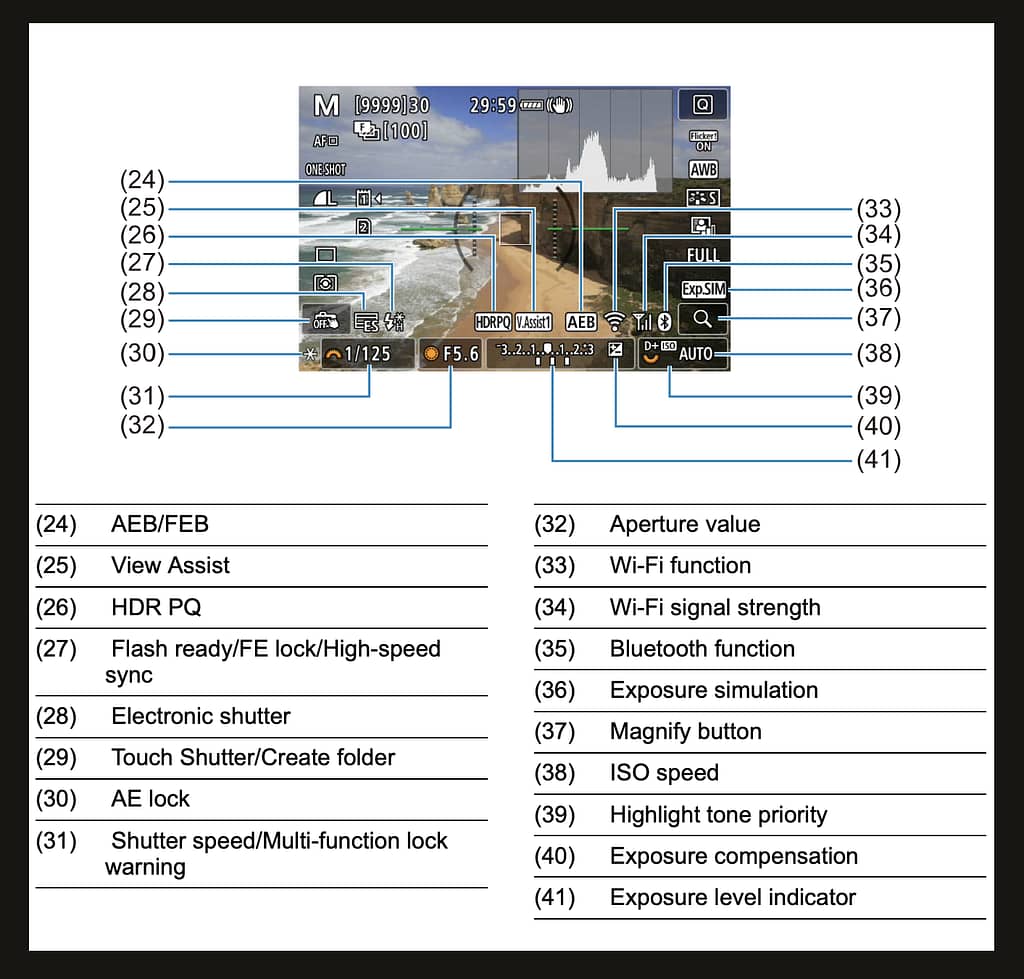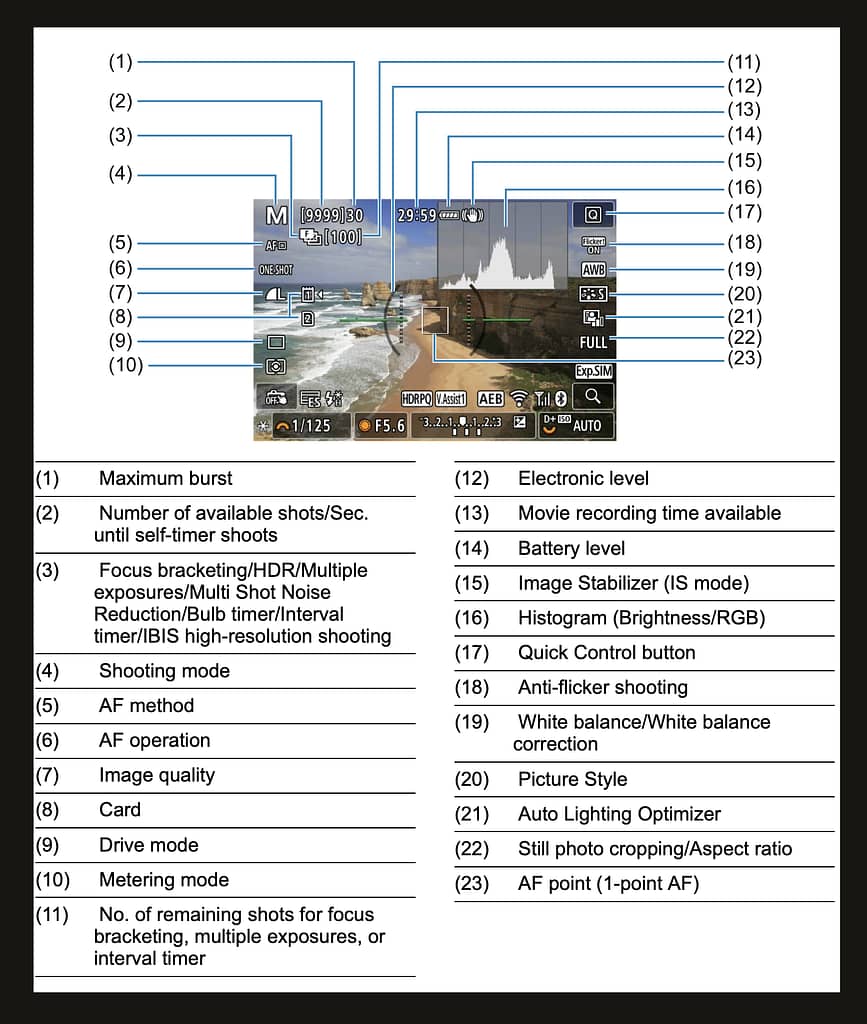 This is my first review of a Sony mirrorless camera, and the control layout can be a bit confusing. The controls resemble those of the Nikon Z series in part. The body of the Sony A7R V is smaller and lighter (723 g) by just 5 g than the Canon EOS R5 (738 g) and the buttons also appear cramped on the top right. The Sony lacks an LCD on the top, something I use regularly to quickly check the camera settings.
Top Controls
Sony A7R V Front Controls
Featuring an updated and improved LCD layout, the A7R V presents a 4-axis multi-angle LCD monitor that seamlessly integrates the advantages of tilting screens with those of side-open/flip-out Vari angle designs. Boasting a size of 3.2″ and a resolution of 2.1 million dots, this LCD incorporates touchscreen functionality and a DCI-P3 wide gamut.
The rear monitor or LCD of the Sony A7R V is a remarkable piece of engineering. It can flip out to the side and rotate, like the Canon. Additionally, it has the capability to flip both upwards and downwards while in the stowed position. (although it interferes with buttons on the rear of the camera when stowed) Furthermore, you can also flip and rotate the screen when it's positioned upwards or downwards.
Sony A7R V - Viewfinder Information
The camera features a 1.6 cm (0.64 type) Electronic Viewfinder (OLED) with a total of 9,437,184 dots. It offers 100% frame coverage and approximately 0.90× magnification with a 50mm lens focused on infinity.
The viewfinder can display the following information:
Shooting Mode, Memory, Scene Recognition, Scene Selection, Image Properties, Movie Properties, System Status, Zoom and Focus, Display and Files, Shooting Settings, Recording Information, Control Functions, Exposure Settings, GPS Information and Errors and Timestamp. (not an exhaustive list)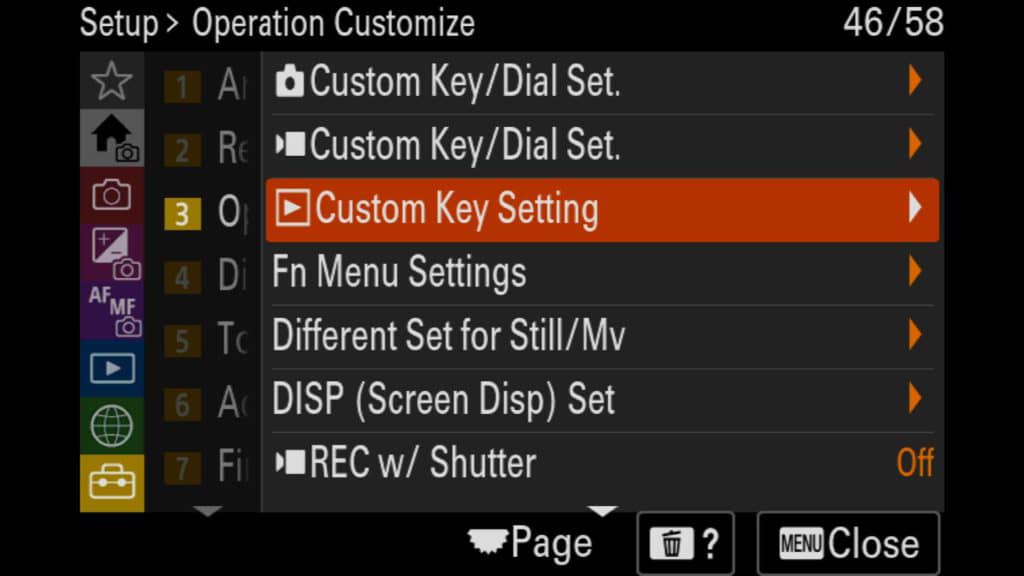 A standard colour chart shows how the Canon EOS R5 and the Sony A7R V handle low-light situations. Both these premium cameras have a base ISO of 100 (Native).
Both cameras will be tested with an aperture of f/4 at 24mm, starting at the base ISO of 100, 400, 800, 1600 and finally ISO 3200.
Canon R5 - Results ISO 100-3200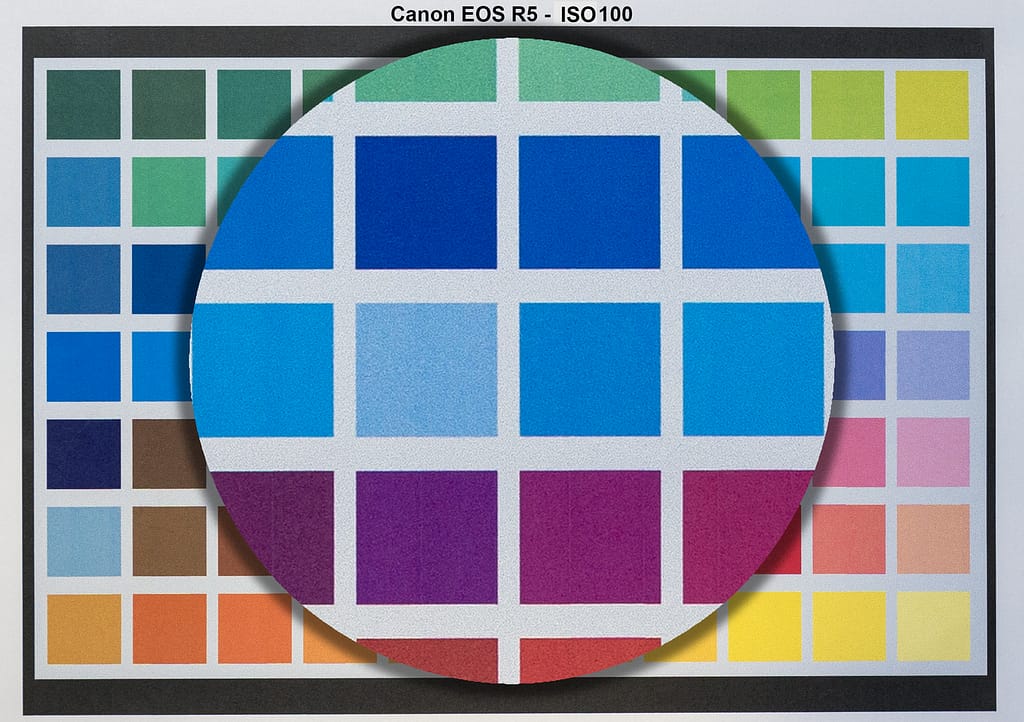 Sony A7R V - ISO 100-3200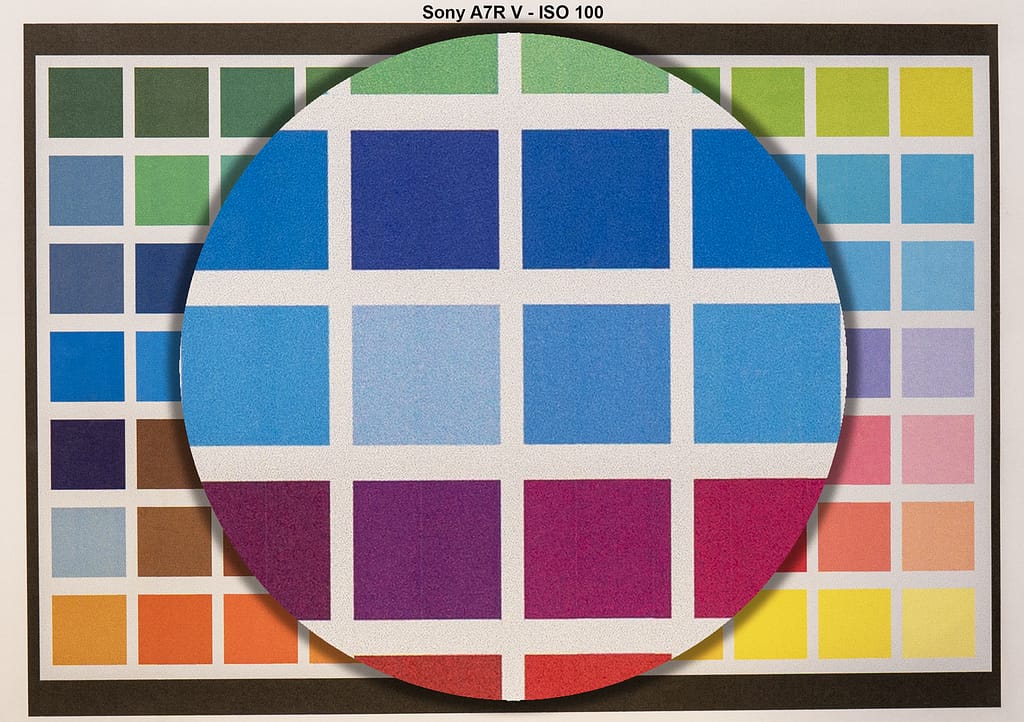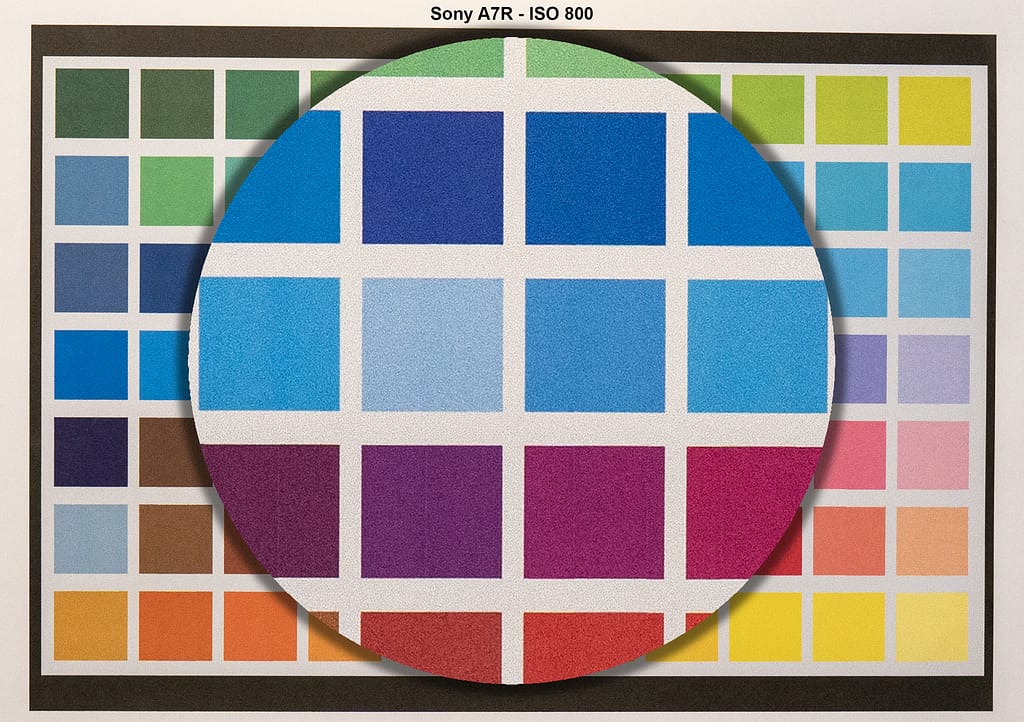 ISO 100 – ISO 3200 Canon (L) Sony (R)
Sensor noise refers to the unwanted random variations or imperfections in the signals captured by a camera's image sensor. It can manifest as specks, dots, or irregular patterns in photographs, diminishing image quality by introducing unwanted artefacts. Sensor noise is especially noticeable in low-light conditions or when using high ISO settings, where the camera's sensor struggles to accurately capture light, resulting in a grainy or noisy appearance in photos.
Sony A7R V – ISO 100-3200
The noise test results were intriguing. The Sony A7R V produced slightly more noise across the ISO range compared to the Canon. The Sony camera has 60mp, while the Canon has 45mp, which might explain the higher noise levels. It's important to note that this test was not conducted under strict scientific controls, I standardised the camera settings and controlled the lighting throughout the test.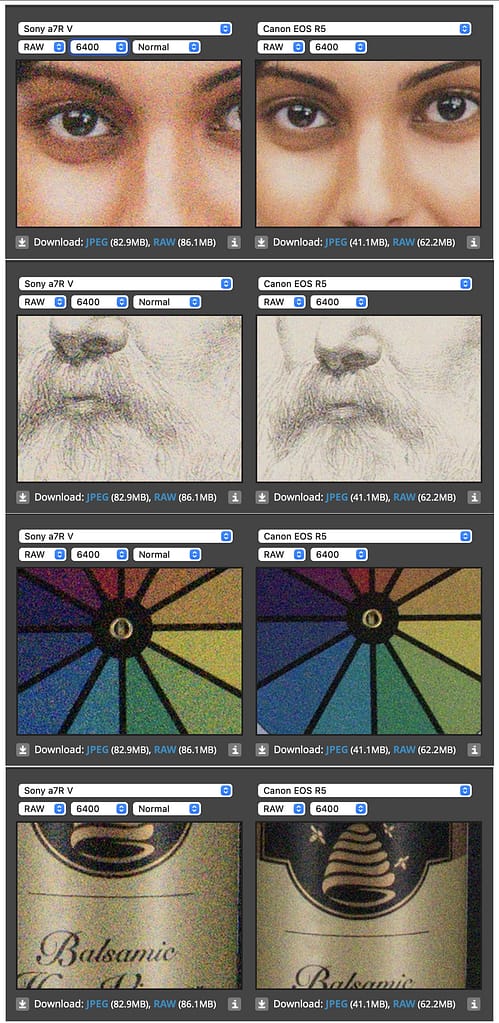 DPReview offers an excellent online tool that allows you to compare the noise performance of various camera bodies across a range of settings. In the example image provided, we are comparing the Canon EOS R5 and the Sony A7R V at an ISO setting of 6400.
When we examine the noise performance at ISO 6400, it becomes apparent that the Sony A7R V falls short in comparison to the Canon EOS R5. Additionally, the Canon EOS R5 outperforms the Sony when it comes to jpeg rendering at the same ISO setting. The image below serves as confirmation that the Canon EOS R5 produces cleaner results.
The Sony A7R V matches the Canon EOS R5 noise performance (no discernible difference) until ISO 400 at which point the Canon provides the cleaner image. Even at ISO 102400 (not recommended on either camera the Canon produces a cleaner image.
In this test, I want to look at the image quality of both cameras with the exact in-body settings.
ISO:  100
Shutter: 1/100th
Aperture: f/4
White Balance: Auto
The Canon was fitted with Rf 24-105mm at 35mm and the Sony was equipped with the Tamron 15-35 0mm at 35mm. These are both zoom lenses and are not ideal matched as only the Canon is a native lens. However, that said the Tamon produced some colourful well-saturated and sharp images.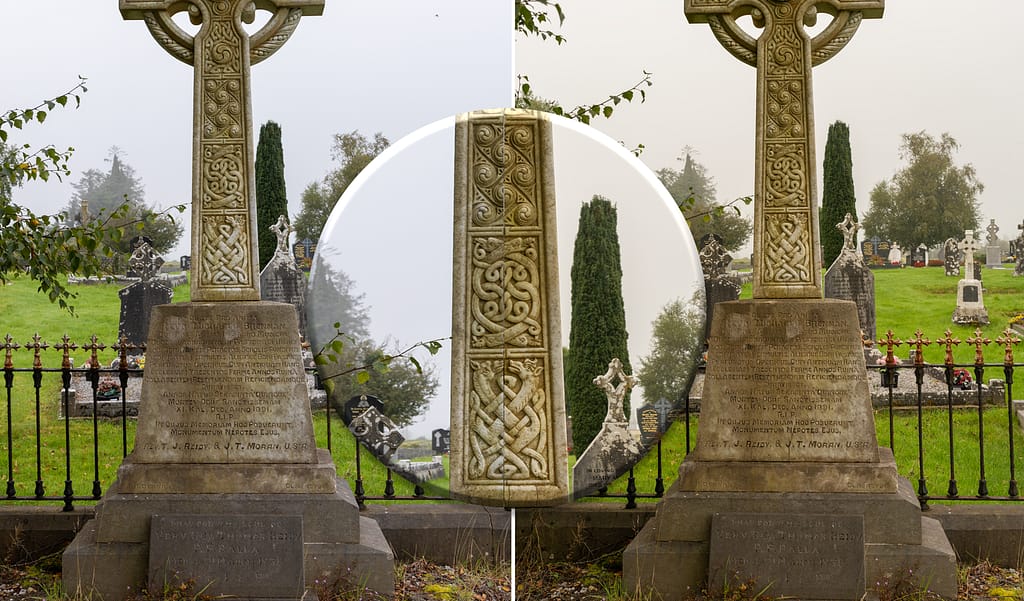 The Canon EOS R5 appears on the left, and the Sony A7R V is on the right in the comparison. The Canon image exhibits an overall cooler tone, whereas the Sony image displays a slightly warmer hue. To the naked eye, both images are identical in terms of sharpness and tonal rendition. Only upon close examination, known as pixel peeping, can one discern that the Sony image is slightly sharper. However, this difference is not noticeable at the regular viewing distance.
Notably, the Sony image can be enlarged more significantly than the Canon image without losing its definition, thanks to its additional 15 million pixels.
Canon and Sony have inbuilt body stabilisation, in addition, both cameras support lens stabilisation. Canon and Sony claim 8 (Eight) stops of image stabilisation, thus reducing blur in the images where there is insufficient light available for fast shutter speeds.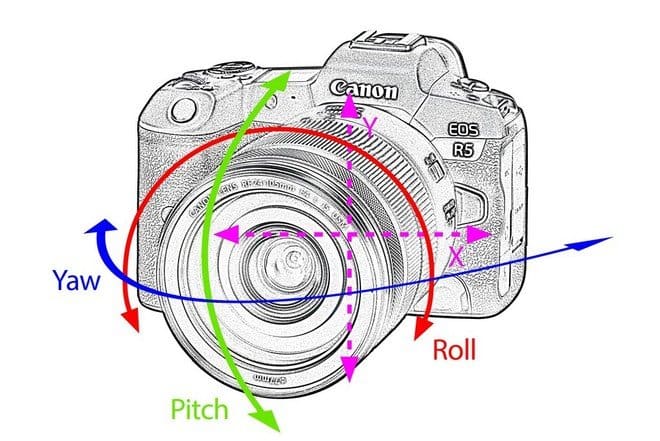 The Canon EOS R5 is a perfect example of evolution within the Canon ecosystem. It improves on the first Canon mirrorless camera the EOS R. 
Positives
Comfortable Ergonomic Design

Superb Image Quality 

Excellent Autofocus Performance 
Extensive Video Features
Professional Video Quality 
High-resolution Viewfinder
Class Leading Menu System 
Articulating Rear LCD, Excellent Touch Screen
Exceptional In-Body Stabilisation
Excellent Burst Shooting Ability
Superb Noise Control
Dual card slots supporting CFExpress and UHS-II SD cards
In-camera USB charging
External Battery Charger 
Excellent HDRTV's Photo/Video
Con's
Two Types of Memory Card Slots (Why!)
Tricky to Master Autofocusing System
Base Native ISO 100
Battery Life CIPA Rated at 320 (not reflected in tests, it's around 450 Shots)
The Sony A7R V is also an evolution of the previous A7R IV but improves performance in all areas.
Positives
A 60MP full-frame sensor with stabilisation
10 fps Mechanical Shutter
7 fps Electronic Shutter
Intelligent AI-driven tracking and Focus Technology
Superb Electronic Viewfinder (Class Leading)
Multi-Angle Tilting and Rotating Touchscreen
Two card slots compatible with CFe (Type A) and UHS-II SDXC Cards in Either Slot
Con's
The LCD Screen is not flush with the Body
No top LCD
Top controls are all packed on the right side of the viewfinder
Image noise above ISO400
Only 7 fps in electronic shutter mode
Lens removal/attach button location
A mixture of locked buttons and unlocked buttons
ISO setting is difficult to read on a light background
No grip options
Card door opening is not intuitive 
Overcomplicated menu system
The battery door does not auto-lock 
The touchscreen function is limited 
Both of these cameras offer an exceptional blend of versatility and quality, making them highly appealing choices for both professional photographers and enthusiasts alike. The remarkable image quality, combined with their outstanding autofocusing capabilities, truly distinguishes these cameras from the competition, highlighting Canon and Sony's commitment to pushing the boundaries of what's technologically achievable in the world of photography.
The Sony A7R V stands as a technological masterpiece, boasting a plethora of innovative features, including Pixel Shift technology, AI-based focusing and tracking. The 9.44 million-dot viewfinder is stunning offering a spacious, bright, and visually stunning experience. The ingenious rear LCD, with its multi-directional capabilities, demonstrates remarkable engineering. However, it's worth noting that the camera's menu system can be overly complex, especially when paired with the limited touchscreen, potentially posing a navigational challenge, particularly for newcomers. Additionally, the LCD doesn't sit flush with the camera body, which can mildly obstruct access to the controls on the right side of the screen. Nonetheless, the Sony A7R V truly shines where it matters most – image quality. It delivers sublime results, with a wide colour gamut and exceptional dynamic range.
In 2023, the Canon EOS R5 still holds its status as one of the preeminent mirrorless cameras available. Despite Canon's late entry into the mirrorless arena, they made a formidable debut with the Canon EOS R. Like the Nikon Z7, it did have its limitations, such as a solitary card reader. However, Canon subsequently launched the Canon EOS R5, addressing these shortcomings by offering two card slots, and a stunning 45MP in-house sensor capable of capturing sublime 8K video. Regrettably, the launch was marred by overheating issues during both video and photo recording, though Canon promptly resolved this with a firmware update. The Canon EOS R5 continues to impress with its 45MP sensor, delivering breathtaking images and video. Its autofocusing and tracking capabilities are excellent, holding their own even when compared to the Sony A7R V. Navigating the Canon menu system is a straightforward and user-friendly experience, simplifying the process of finding the desired settings. However, there is room for improvement in the tracking menu, which can prove challenging and demanding to master. Canon's ergonomic design provides a larger grip, offering a more comfortable feel than the Sony, although preferences in this regard can be subjective. The inclusion of a top LCD further enhances the convenience of quickly reviewing camera settings. Notably, the Canon EOS R5 supports a battery grip for extended shooting, a feature notably absent from the Sony A7R V.
In summary, opting for either of these cameras promises a rewarding photography experience, as they both represent engineering marvels that deliver unrivalled image quality. We recommend visiting a local camera store to physically handle both models, as they exhibit distinct ergonomic differences. While their weights are nearly identical, the Sony boasts a squared-off design and a smaller physical footprint, while the Canon offers a more rounded design with a larger grip and a top LCD.
Please see my Amazon links below, Items won't cost any more, but I receive a small amount to cover the cost of reviews like this one.
Many Thanks
Stephen 🙂
https://amzn.to/45KdwgS – Canon EOS R5
https://amzn.to/3LnNvvM – Canon Battery Grip BG-R10
https://amzn.to/464k2ie    – Sony A7R V