Best Permajet Fine Art Photographic Papers
Permajet is a UK-based company specialising in a wide variety of photographic papers and printing-related products. Established in 1999 the company now sells to over 20 different countries worldwide. I previously tested Permajet papers in my November 2019 blog. I was excited to be testing a new batch of Permajet papers, including their new 2020 FB Gold Silk 315gsm.
Introduction and Methodology
This month I'm looking at photographic papers from Permajet UK, including their latest Permajet FB Gold Silk 315gsm new for 2020.
Papers will be printed on a Canon Pro 10s with installed OEM ink.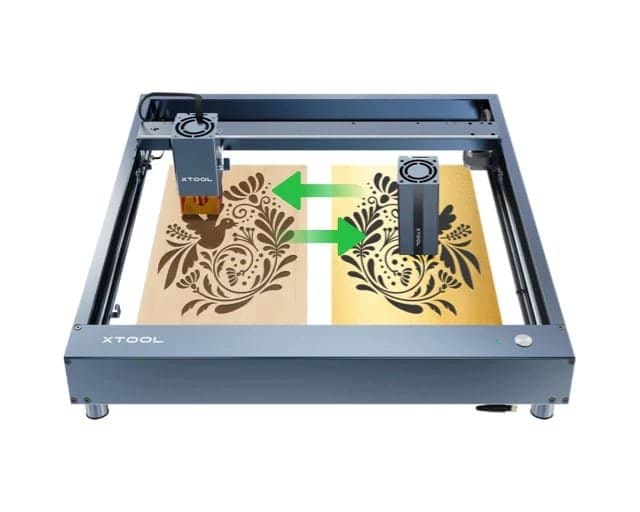 I will be utilising Photoshop CC 2020 editing software on a calibrated Apple 5K iMac. The iMac screen was calibrated with a Datacolor Spyder X Elite
This review is purely based on my observations as a professional photographer.
All images were selected based on content, colour and personal choice. Paper samples were supplied for review at no cost. The review will be impartial with no remuneration from Permajet UK.
Each paper will be printed utilising Permajet's specific ICC profile for each paper; photoshop managed the colour profile and the printer's colour management was disabled.
Review Criteria
The following criteria will be used for each paper:
Description, including look, feel and weight.
Original Image screen captured on a calibrated display.
Photographs of the paper texture and coatings.
Impressions and final results.
All images referenced with * are photographs of the actual printed results.
Print Media
This review blog will include the following papers from Permajet
FB Gold Silk 315gsm
This is a premium heavyweight silk-coated Baryta/fibre paper with a beautifully smooth texture. The colour is warm white/cream and could also be described as pale cream. The applied silk coating is more akin to a soft semi-gloss coating, producing a wonderful sheen across its surface. The paper is 315gsm and feels like a high-quality thin card that appears exceptionally stable.
Image Test 1 – Colour Image
The first image chosen for the new FB Gold Silk was autumnal. The warm tones of the paper and the wonderful sheen should suit this image well.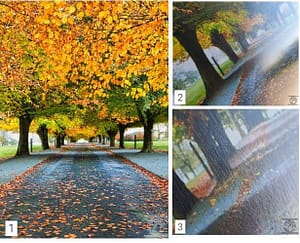 1. Original Image 2. Paper Coating Sheen/Shine* 3. Paper Texture*
 The Autumnal colours are accurately reproduced, and the paper coating is impressive with an evenly balanced sheen across the image. Tonal transitions and nuances are handled exceptionally well, with delicate details in the shadows and highlights being retained. There were no signs of 'Cockling' (distortion of paper by the way of ripples or wrinkles in areas of high ink)  the print was touch-dry immediately after printing. The warm colour of the paper enhanced the golden autumnal colours adding a wonderful depth to the image. 
Image Test 2 Monochrome / Black and White Image
This monochrome image of an old abandoned house was chosen; the image has numerous tonal transitions, deep dark shadows and bright highlights.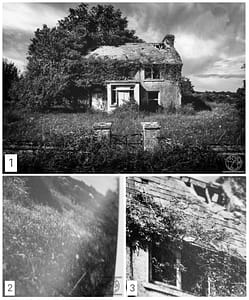 1. Original Image 2. Paper Coating Sheen/Shine* 3.  Paper Texture* 
 The results are impressive, blacks are inky smooth, in contrast to the gentle highlights. The print is beautifully neutral with no visible colour cast, a great tribute to the Canon Pro-10s and the FB Gold Silk paper ICC. Micro details are clear and precise, and tonal transitions are smooth and handled impeccably.
Impressions and Rating
The printed results are outstanding, in both the colour and monochrome prints.
The colour print shows excellent tonal nuances, tonal transitions and contrast with no visible ink bleed. Colours are vibrant, shadows retain fine details, and micro details are crisply rendered.
Monochrome prints are where the FB Gold Silk Baryta paper shines, it's ability to reproduce inky blacks is remarkable. The tonal range from black to bright highlights without losing detail in the shadows or highlights is outstanding.
Prints were touch-dry immediately after printing, however, it's advisable never to touch the printing surface, even when fully dried. The paper was laid on a flat surface and allowed to fully dry naturally.
Permajet's has another winner on its hands for 2020, beautifully crafted paper, very stable with stunning results in both colour and monochrome images.
Technical Data PDF https://bit.ly/3crNfIB
Titanium Gloss 300gsm
This is a heavyweight metallic specialised paper with a silver-based resin coating on a fibre base. It has a high-gloss reflective coating with a blueish-grey metallic appearance. The paper is smooth with micro undulations that resemble a hammered silver surface.
Image Test
Deciding on an image for this metallic paper took some time, it would have been easy to select an image with, let us say, metallic railings with a high reflection; however, I decided to print a monochrome portrait to test the flexibility of the paper.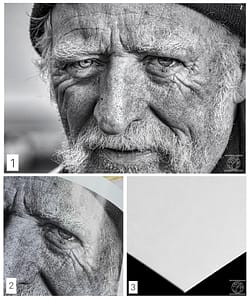 1. Original Image 2. Paper Coating Sheen/Shine* 3.  Paper Texture*
 Personally, I would say this test was a great success. The tonal transitions from the inky blacks to the bright highlights are superb, especially noticeable in the mid-tone greys. The eyes appear to sparkle, details are crisp and clean. His white hairs have a beautiful separation from the dark tones of his skin. Tonal transitions in the blurred background are silky smooth, adding great depth to the portrait.
Impressions and Rating
This is a specialised paper and choosing the right image will really make the paper shine (no pun intended). The image is sharp and tonal separation is excellent, the broken veins on the face are extremely delicate and rendered beautifully. The monochrome image is neutral with no colour cast a testament to the Permajet ICC profile.
The print was touch-dry after printing, the paper was laid on a flat surface and allowed to fully dry naturally.
Technical Data PDF https://bit.ly/35VOQ79
Photo Art Silk 290gsm
This is a fine art smooth heavyweight paper, with a bright white fibre base colour and a soft sheen coating that's invisible until an image is printed. The paper is very stable and feels like a quality thin card.
Image Test
I chose a stylised image of the castle folly at Lough Key with delicate transitions and a soft colour pallet. The image casts a great reflection on the water.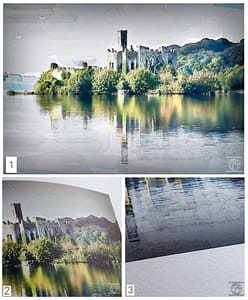 1. Original Image 2. Paper Coating Sheen/Shine* 3.  Paper Texture*
 The 'Painted Folly' a stylised photographic image replicating a watercolour was ideal for this paper. The subtle nuances are beautifully captured and replicated faithfully. Tonal transitions are buttery smooth, highlights are bright, contrasting well with the deep blacks. Image three above illustrates my watercolour comparison exceptionally well. The castle reflection in the waters of the Lough demonstrates fluidity and motion. There were no signs of cockling, the print was touch dry from the printer.
Impressions and Rating
This is a wonderful fine art paper, oozing quality from its fibrous and smooth base to the (Magically Appearing) soft sheen coating. The paper was exceptionally stable before and after printing. I'm running out of superlatives to describe these Permajet papers, they are that good. Technical Data PDF https://bit.ly/3bqVXFG
Photo Lustre 310gsm
This is a heavyweight lustre paper with a bright white fibrous base and a resin lustre and UV protection coating, having a soft sheen across the entire media. Running a finger across the paper, whilst soft to the touch, it has an extremely fine abrasive feel.
Image Test
The image chosen is of sunrise across the blog lands, with bold and vibrant colours.
1. Original Image 2. Paper Coating Sheen/Shine* 3.  Paper Texture*
 This image was an ideal choice, the paper didn't disappoint, colours are succinct and vibrant. Colour and tonal transitions are seamless, blending smoothly across the image. Fine details, the illuminated spider webs, mist rolling in across the blog land's and the sun's rays are rendered perfectly. Colour accuracy from monitor to print was near perfect, holding the print up against the monitor image (apart from the brightness monitors being backlit) it was difficult to see any noticeable differences.
Impressions and Rating
This is an excellent lustre paper, heavyweight / durable with a degree of water and scratch resistance. Colours are reproduced faithfully and tonal transitions are buttery smooth. The ICC profile from Permajet is incredibly accurate and faithfully reproduces the captured image to print. Technical Data PDF https://bit.ly/35WnVrE
Conclusions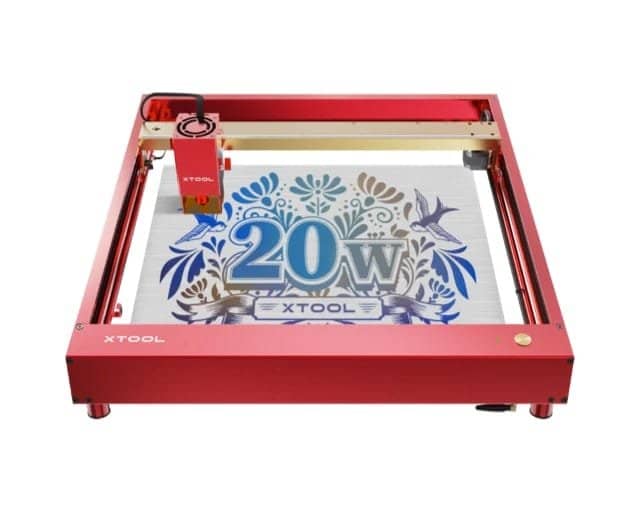 I have truly been impressed by the Permajet papers on the test, in every case they have exceeded my expectations. The photographic papers showed no signs of ink bleed or cockling and were touch-dry after printing. Colours were reproduced accurately a testament to the supplied ICC profile and the excellent Canon Pro-10s. The new 2020 FB Gold Silk image results were outstanding, a worthy addition to Permajet's range of fine art photographic papers.
I would like to thank Permajet UK for supplying the papers on the test, Gaelic Memories Photography will be moving exclusively to Permajet papers once current stocks are depleted.
Stephen 

Addendum
Please remember there are many variables to consider before printing, including the chosen image monochrome/colour, printer inks OEM/NON-OEM, monitor/printer/camera calibration, room lighting warmth (kelvin), room temperature (environment), room brightness, ICC profile, editing software, colour control software/printer, paper choice and desired output. It's these choices that will determine the quality of the output/print.
Paper Terminology Links  gsm Opacity Dmax OBA Wide Colour Gamut ICC Calcium Carbonate buffered Acid-Free Lignin Free Barium Sulphate Coating Mould Made pH Neutral Whiteness
Product Links
*Disclosure ' As an Amazon Associate I earn a commission for qualifying purchases, this helps to cover the running costs  of the website