Introduction
The company was founded in 2011, and Beelink (trademark) is a part of Shenzhen AZW Technology Co, Ltd, based in China. They produce high-tech products, including a wide range of mini PCs under the Beelink trade name. These tiny PCs feature high-quality PC components from brands such as Intel, AMD, Cruical and Kingston.
Beelink's mission statement: continue to create value for our customers worldwide.
Build the right product before building the product right.
Beelink's vision: Be different
Compassion: We are kind and caring to everyone we encounter.
Accountability: Each of us is responsible for our words, our actions, and our results.
Respect: We value everyone and treat people with dignity and professionalism.
Integrity: We build trust through responsible actions and honest relationships.
Teamwork: We achieve more when we collaborate and all work together.
Beelink kindly sent a SER6 Mini PC for review, featuring a AMD Ryzen 5 6600H and Radeon 660m integrated graphics.
Description
The Beelink Mini PC is small in size and fits in the palm. It features a strong-composite chassis and plenty of ports to both front and rear. The build quality inspires confidence that this Mini has been designed and built to a high standard. The top cover is soft to the touch and prevents fingermarks, the top cover is replaceable, Beelink included a grey and red cover.
Technical Specifications
The Beelink SER6 6600H Mini PC is powered by the 6-core 12 Threads processor AMD Ryzen 5 6600H(base operating frequency is up to 4.5GHz and supports a 16MB smart cache). Beelink SER6 6600H uses AMD Radeon GPU(660M 6core 1900 MHz), and 8GB x2 of Crucial RAM 4800MHz. It features a Kingston 512GB M.2 NVMe PCIe4 with a large thermal pad. The SER6 can connect three monitors simultaneously, improving work efficiency and effectiveness. The unit comes with Windows 11 Pro preinstalled.
2 x HDMI ports,
3 x USB3.2 ports,
1 x USB2.0 port,
1 x Type-C(USB4) port,
1 x DC Jack port,
1 x RJ45 2.5Gbps port,
1 x Audio Jack (HP&MIC) port.
PCle Gen4.0 MAX Read 3500MB/s
Built-in 500GB M.2 PCIe 4.0 2280 SSD disk with read speed up to 3500MB/s and 30% performance improvement compared with PCIe 3.0.

Software Benchmarks
To test this mighty mini PC I selected benchmarking software freely available online at no cost. The software selected was the following:
Cinebench R23
3DMark
Speedtest
Geekbench 6
Blackmagic Raw Speed
Cinebench R23
First up was Cinebench R23 by Maxon. Cinebench is a real-world cross-platform test suite that evaluates your computer's hardware capabilities. The benchmarks are based on the Maxon Cinema 4D professional rendering software.
I tested my late 2015 iMac, Intel i5 3.2hz, 32Gb Ram and 1TB SSD (Curial BX500) to have a benchmark to evaluate the performance of the Beelink 6600H.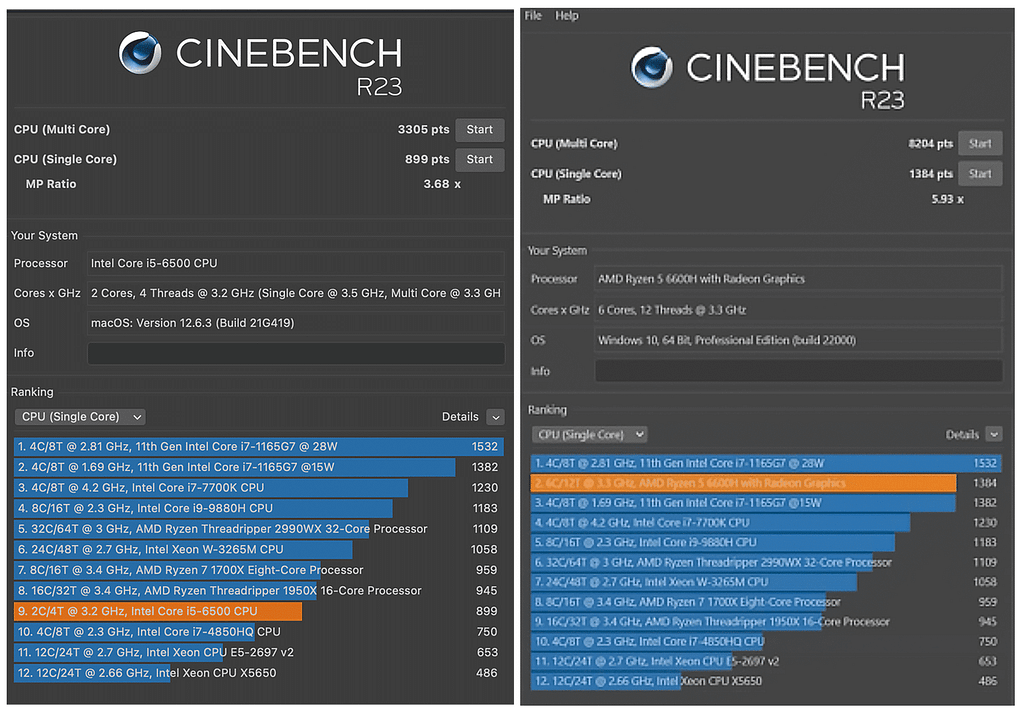 Unfortunately, the screen capture on the Dell monitor is a little soft and hard to read. Please beware that these are synthetic results and may not represent the performance in real-world computing. However, they represent a guide to the overall performance of the system. The result is as follows:
Intel i5 6500 3.2GHz
CPU (Multi-Core) 3305 pts
CPU (Single-Core) 899 pts
MP Ratio 3.68 x
AMD Ryzen 5 6600H 3.3GHz
CPU (Multi-Core) 8204 pts
CPU (Single-Core) 1384 pts
MP Ratio 593 pts
* Please note screen recording lowered the AMD Ryzen 5 score
The online Cinebench results for the AMD Ryzen 5 6600H are (Single-Core)1470, (Multi-Core) 10318
The online Cinebench results for the Intel i5 6500 are (Single-Core) 923,  (Multi-Core) 3097
3DMark
3DMark is a tool for measuring the performance of PCs and mobile devices. It includes a range of benchmarks, each one designed for a specific class of hardware from smartphones to laptops to high-performance gaming PCs. 3DMark is available for Windows, Android, and Apple devices (source benchmarks Ul)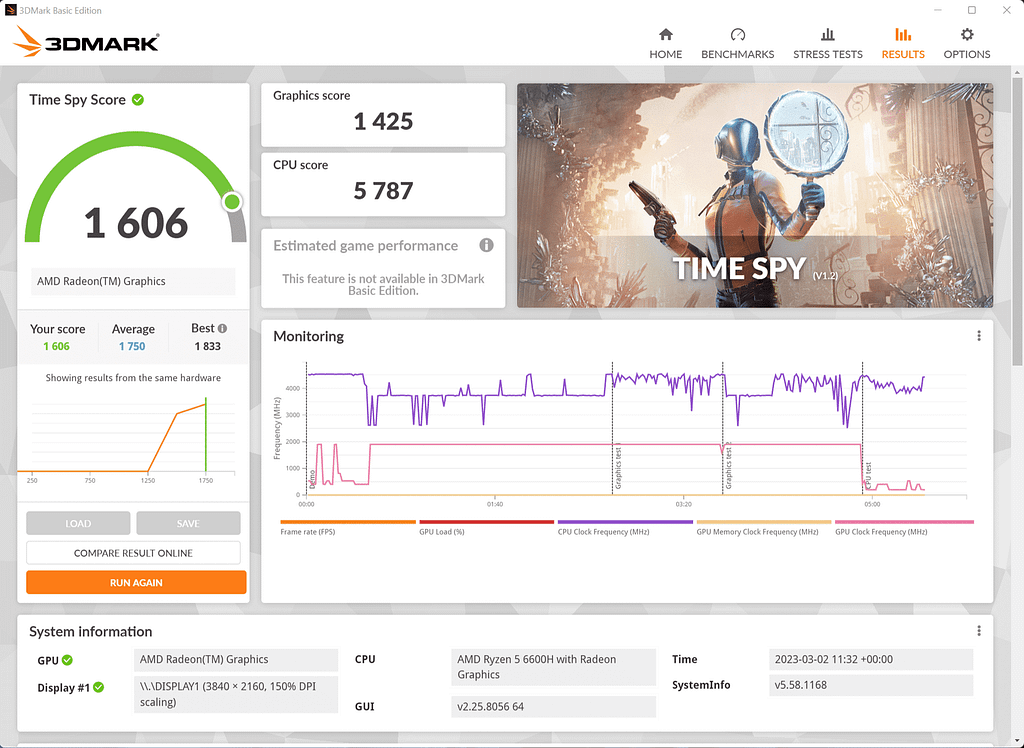 The Beelink 6600H results are 1425 (graphics score), 5787 (CPU score) and an overall score of 1606. The iMac i5 6500 results were 16844 (graphics score), 3328 (CPU score) and an overall score of 10447.
Speedtest
Speedtest by ookia aims to be the most accurate measure of a user's real-world network performance. Speedtest have a global network of high-performance servers, to test the maximum sustained  (download and upload speeds) and report the results.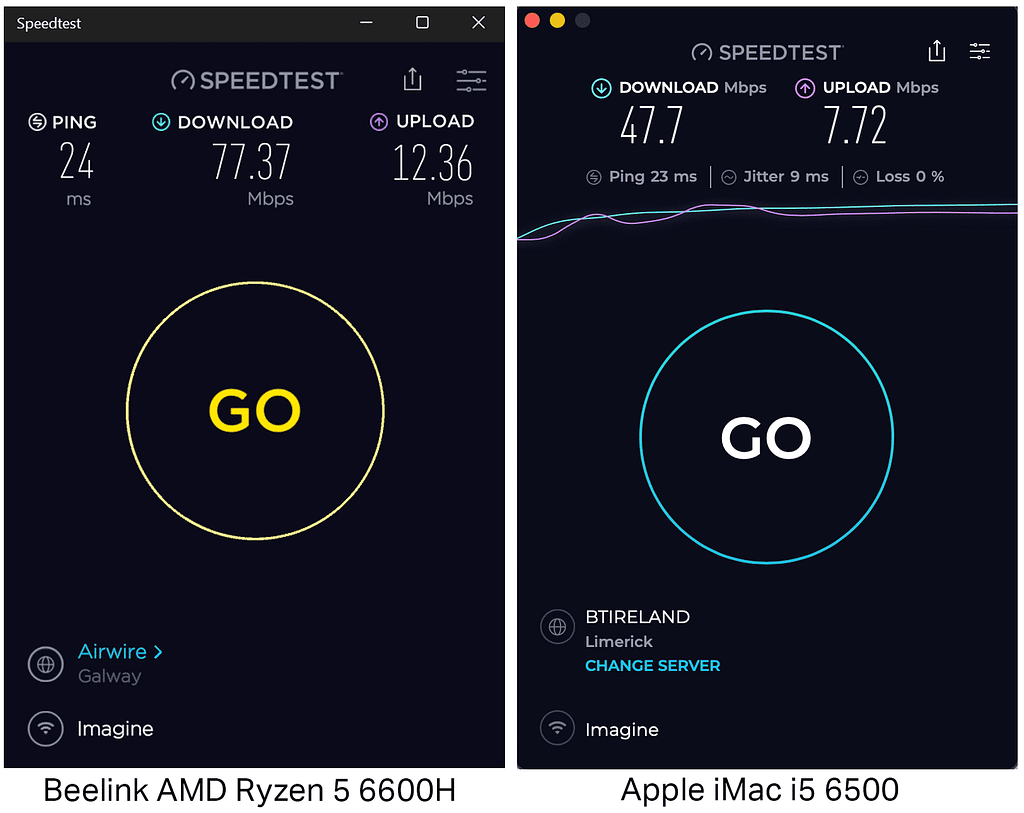 The Beelink 6600H is a 48% improvement in the download speed and a 52% improvement in the upload speed over the Apple iMac i5 6500. This is s substantial result for the Beelink 6600H. The Beelink 6600H utilises WIFI 6, Bluetooth 5.2 and the Apple iMac i5 utilises WIFI 4 and Bluetooth 4.
Geekbench 6
CPU benchmark scores are used to evaluate and optimise CPU and memory performance using workloads that include data compression, image processing, and machine learning. GPU Compute benchmark scores are used to evaluate and optimize GPU Compute performance using workloads that include image processing, computational photography, computer vision, and machine learning. (source: geekbench.com)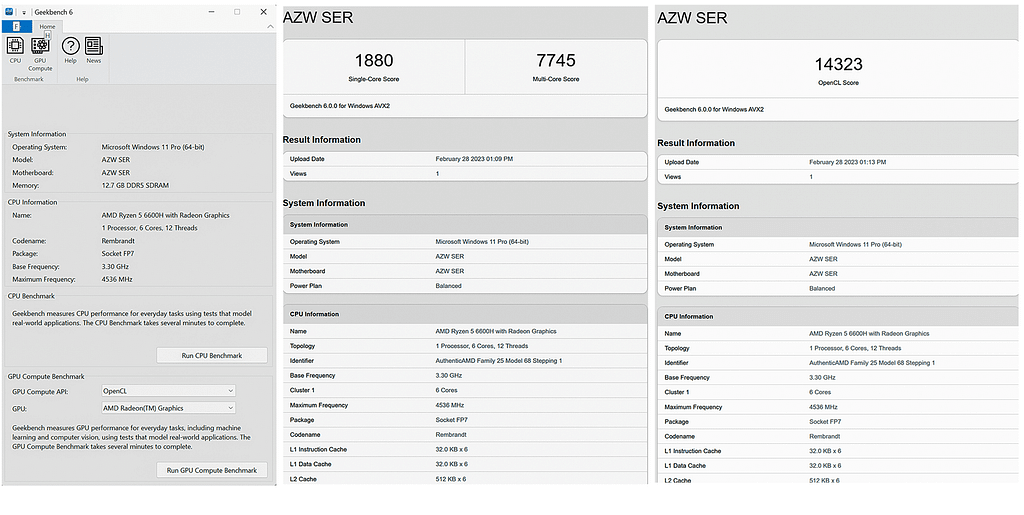 The results for the Beelink were 1880 (single-core), 7745 (multi-core) and 14323 (openCL). The result for the Apple iMac i5 was 1123 (single-core), 3346 (multi-core) and 19404 (open-CL) The openCL result demonstrates Apple's ability to get the most out of a GPU through hardware acceleration.
Blackmagic Raw Speed
Blackmagic RAW Speed Test is a CPU and GPU benchmarking tool that you can use to test the speed of decoding full-resolution Blackmagic RAW frames on the system. Multiple CPU cores and GPUs are automatically detected and used during the test so that you get accurate and realistic results. (source: Blackmagicdesign.com)
The results are based on 8K @ 12:1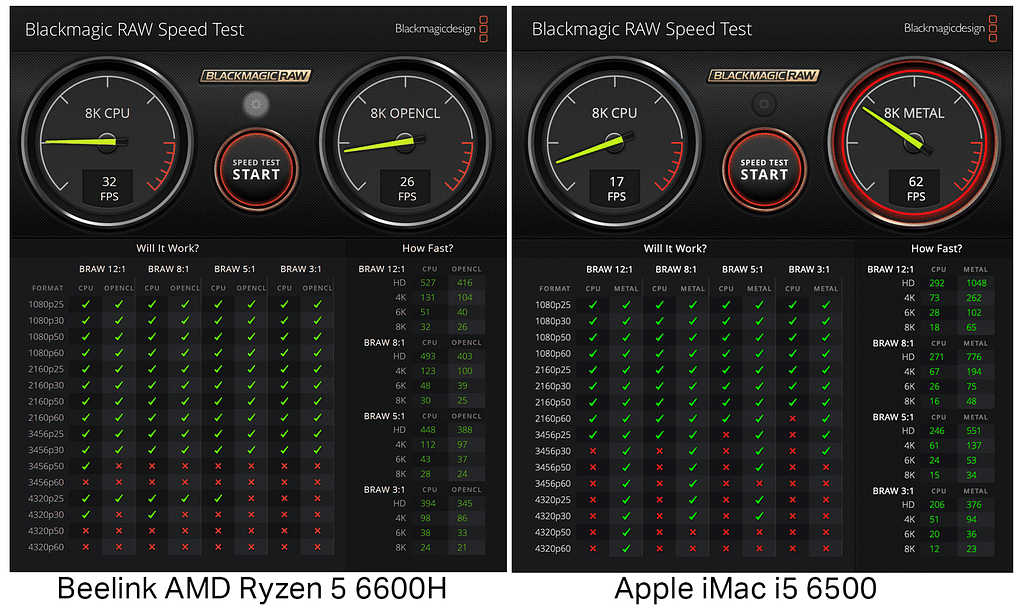 These results validated Apple's performance claims utilising hardware graphics acceleration powered by Metal*. The Ryzen 5 CPU performance was twice that of the iMac. However, the late 2015 Intel i5 GPU (AMD Radeon R9 M390 2 GB) was 81% faster than the integrated GPU in the Ryzen 5 CPU (Radeon 660M 3 GB).
*Metal aims to provide low-overhead access to the GPU. Commands are encoded beforehand and then submitted to the GPU for asynchronous execution. The application controls when to wait for the execution to complete thus allowing application developers to increase throughput by encoding other commands while commands are executed on the GPU or save power by explicitly waiting for GPU execution to complete. Additionally, command encoding is CPU-independent thus applications can encode commands to each CPU thread independently. Lastly, render states are pre-computed beforehand, allowing the GPU driver to know in advance how to configure and optimize the render pipeline before command execution. (source: Wikipedia)
Beelink SER6 Ryzen 5 6600H
Ease of access is the key here, the base can be opened by removing 4 screws (not hidden) and pulling the handy tab provided by Beelink.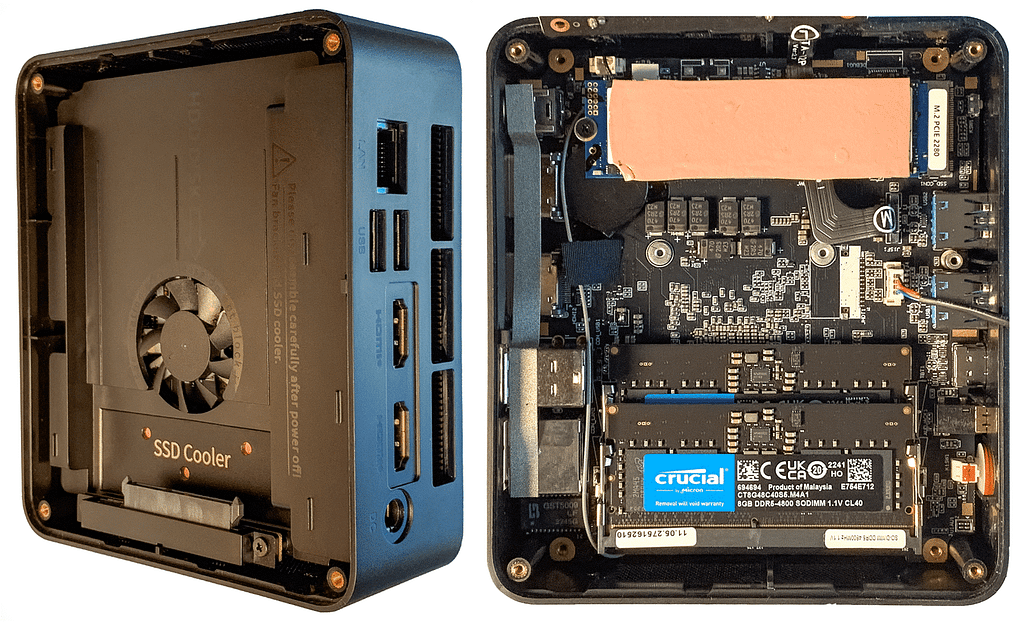 The image on the right shows the SSD fan (dual function) and the mainboard cover. The cover was secured with four screws in either corner (Philip's head non-propriety). Care is required when removing the mainboard cover and integrated fan. The SSD connection is tethered to the main board by a thin cable. The fan connects to the mainboard. On the right, the image is of the main internals; I was impressed that the mini PC utilises known brands Crucial, Kingston and AMD. The 512GB M.2 NVMe drive 
Noise
The Beelink 6600H is very quiet when running intensive benchmarks. The sound levels (dB) recorded equate to a whisper or a quiet library; measurements were recorded at a distance of 500mm.

 

Expandability

Unlike Apple's trend of producing PCs with no expansion internally, Beelink has you covered. The Beelink 6600H is fully upgradeable; the RAM to a maximum of 64GB, NVMe to a maximum of 2TB and the option to install an SSD in the base. The system can grow with you, extending its useful life and reducing the amount of e-waste.
Observations and Recommendations
Beelink has produced a well-designed and constructed Mini PC. At this point, I would suggest improvements and make recommendations; but I have none to make. Beelink have put a great deal of time and effort into producing a product that is near perfect.
Positives
Small footprint
Low noise even during benchmark testing
Compact design
Windows 11 Pro preinstalled
A superb choice of IO ports
Fast and Powerful
AMD Zen3 + architecture and 6nm technology
Easy to expand
Premium parts
Crucial memory (DDR5 4800MHz)
AMD Ryzen 5 CPU (4.5GHz)
Radeon 660M GPU
Illuminated power switch
Headphone jack
CMOS reset
Lightweight
The rubber tab (thoughtful) for removing the base
Base screws not hidden under rubber feet
Price
WiFi 6 (2.4Gbps)
Supports Linux operating system
Conclusions
I'm impressed; this unassuming black box hides the power and performance of a modern desktop PC. It is not a gaming PC or a high-end video editing system, nor is it intended to be. Yes, you can play casual games, edit 4K videos, and run photo editing software successfully. In all the above tests (except the Metal GPU test), the Beelink Mini PC outperformed the 27″ Apple iMac i5 6500 with 32GB of DDR3 RAM.
It's clear Beelink seriously considered the design and engineering required to enclose a powerful PC in a small form factor; it's great to see Beelink using branded components like the Crucial DDR5, Kingston NVMe and AMD Ryzen 5 CPU with integrated 660M GPU graphics.
The Beelink 6600H is ideal for students, home offices, and a child's first PC; thinking about it, anyone who is not an avid gamer or video editor. With an average online price of around $500 / €500, what is there not to like? The unit even shipped with Windows 11 Pro installed, a genuine PC bargain and fully upgradeable.
Stephen
Gaelic Memories Photography
Beelink website: https://www.bee-link.net/