ACASIS is a company that strives for innovation and excellence in every product they create. Since 2008, they have been guided by the motto: "No Innovation, No Brand." This principle has shaped their operations and motivated them to develop cutting-edge technology products that improve the lives of their customers. They constantly refine their product designs and performance to meet the highest standards of quality.
ACASIS has earned a reputation for producing popular and high-quality products in various fields. However, they are not satisfied with their achievements and continue to pursue rapid development. They have a dedicated and energetic team that provides timely support and exceptional service to every customer and distributor partner.
ACASIS is passionate about progress and aims to deliver solutions that make life easier and simpler for all kinds of customers. They focus on exquisite designs and customer-oriented service in their future developments. They invite everyone to join them in their journey towards a future filled with innovation and customer-focused excellence.
Introduction to the ACASIS Enclosure
The ACASIS 40gbps NVME enclosure is a device that enables fast and reliable data transfer between an SSD and a computer. It supports the latest NVMe protocol, which allows for data transfer speeds of up to 40 gigabits per second. This is equivalent to transferring a 4K movie in less than 10 seconds. The device is also compact and portable, measuring only 10.5 x 4.5 x 1.5 cm and weighing 60 grams. It can be easily connected to any computer with a USB-C port, without the need for additional drivers or software. The ACASIS 40gbps NVME enclosure is a high-performance device that can enhance the productivity and efficiency of any user who needs to store or access large amounts of data.
ACASIS Enclosure - First Impressions
The Acasis  40gbps NVME enclosure is made of aluminium, which provides excellent heat dissipation and protection for your SSD. It also comes with a 50cm Thunderbolt cable that delivers the maximum speed and performance. The enclosure has a simple and elegant design, with a dark grey or light grey colour option. It has an LED indicator that shows the working status of the device, and it has a rubber stopper that prevents the SSD from sliding out.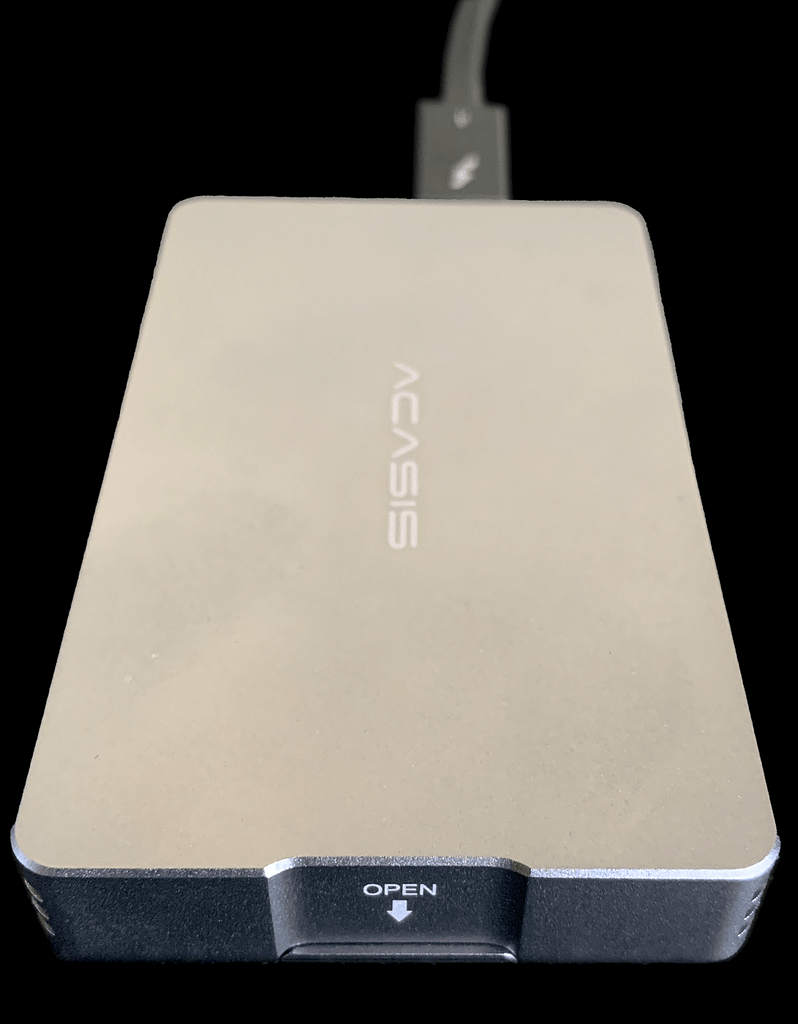 The Acasis 40gbps NVMe enclosure is a sleek and compact device that allows you to transfer data at up to 40Gbps, which is faster than most internal drives. That means you can copy a 4K movie in seconds, or back up your entire system in minutes. It is compatible with Thunderbolt 3/4 and USB 4.0, as well as backward compatible with USB 3.2, USB 3.1, USB 3.0 and USB 2.0. It supports M-key and B+M key PCIe NVME SSDs up to 8TB in size, and it has a tool-free installation design that makes it easy to mount and dismount your SSD.
The ACASIS  40gbps NVME enclosure is a great choice for professionals who need to transfer large files or data sets quickly and efficiently. It is also ideal for gamers, video editors, photographers, and anyone who wants to upgrade their storage solution. It works seamlessly with various operating systems, including Windows, macOS and Linux. It is plug and play, without needing any drivers or external power supply.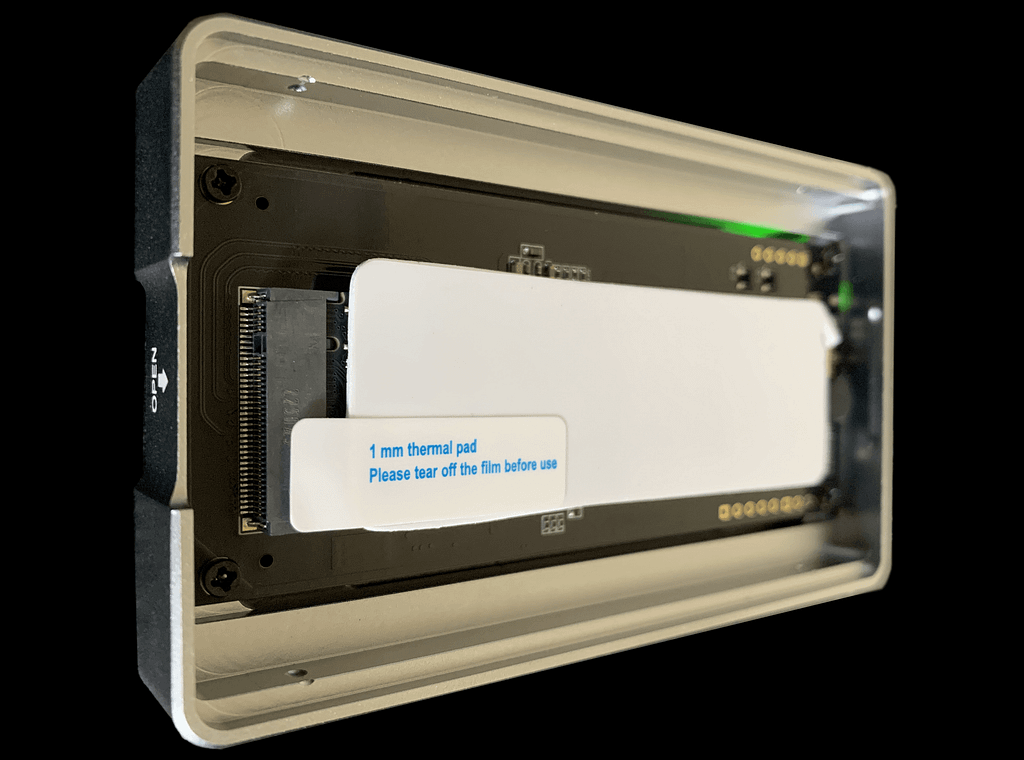 The NVME installation procedure for the ACASIS 40Gbps NVMe enclosure is as follows:
The cover is a compression fit, hold firmly and pull on the small metal tab (the fit is tight)
Remove the rubber stopper from the end of the enclosure and slide out the metal tray.
Align the M.2 NVMe SSD with the M-key slot on the tray and insert it gently. Make sure the SSD is firmly connected to the slot.
Use the included thermal pad to cover the surface of the SSD and press it lightly to make it stick.
Slide the tray back into the enclosure and secure it with the rubber stopper.
Connect the enclosure to your device using the included Thunderbolt 4 cable. The enclosure should be recognised by your device automatically.
There is a green indicator light on the rear of the enclosure when connected.
ACASIS NVMe - Black Magic - Benchmark
The test will use a 2TB M.2 Fanxiang NVMe SSD connected to an iMac Studio M1 Max via the Thuderbolt 4 cable. 
Fanxiang S880 2TB M.2 SSD Specifications:
It uses the MAP1602A-F1C Falcon Lite controller from MaxioTech, which supports PCIe 4.0 x4 interface and HMB (Host Memory Buffer) feature.
It has 232-layer TLC NAND flash from YMTC, which offers high density and speed.
It has a sequential read speed of up to 7300 MB/s and a sequential write speed of up to 6800 MB/s.
It has a dynamic SLC write cache of approximately 240 GB, which boosts the write performance.
It has an endurance rating of 1400 TBW and a warranty period of 5 years.
It is compatible with desktop devices and PS5 consoles.
Blackmagic - Benchmark Results
The results were excellent with a Max Read was 2500 MB/s and a Max Write of 2763 MB/s. This result is near identical to the Fanxiang claimed speeds of  2500 MB/s Read and 2800 MB/s Write.
Pros and Cons of the ACASIS 40Gbps Enclosure
The ACASIS 40Gbps NVMe SSD Enclosure is a device that lets you connect an M.2 NVMe SSD to your computer or mobile device using a USB-C port. It supports the latest Thunderbolt 3 and 4 standards, as well as various USB protocols. It works with Windows, Linux, Mac OS, iPad OS, iOS, and Android systems. Some of the advantages and disadvantages of this product are:
Pros:
It has a high and stable data transfer speed of up to 40Gbps, which is about eight times faster than a normal USB 3.0 enclosure.
It has a stylish and compact design that is convenient to carry and store. It is 4.33 x 1.57 x 0.47 inches in size and weighs only 2.82 ounces.
It has a sturdy and heat-resistant aluminium shell that prevents the SSD from overheating and reduces power consumption. It also has a thermal pad and a corrugated surface for optimal heat dissipation.
It works with a wide range of M.2 NVMe SSDs in the 2280 form factor, allowing you to pick your preferred storage solution based on your specific needs and requirements.
It is simple to install and use, with no drivers or software required. You just need to put the SSD into the enclosure, connect it to your device using the included USB-C cable, and you are ready to go.
Cons:
It needs a Thunderbolt 3 or 4 port and a Thunderbolt certified cable to achieve the maximum speed of 40Gbps. If you use it on a regular USB-C port, the speed will be limited by the port's bandwidth.
It may not be compatible with some older devices or systems that do not support NVMe protocol or USB-C interface. You may need to check your device's specifications before buying this product.
The ACASIS 40Gbps drive enclosure has several features that make it a valuable asset for any user. It allows fast and efficient file transfer, which can save time and enhance productivity. It also has a large (8TB) storage capacity, which can accommodate multiple projects and prevent computer slowdown. I have tested this product for a few weeks, and I can attest to its high performance and reliability.
The ACASIS 40gbps NVMe enclosure is available on  Amazon It also comes with a 15-day return policy and a one-year warranty from the manufacturer .
I hope my review of the ACASIS 40gbps NVMe M.2 SSD enclosure has been helpful. If you have any questions or comments about the ACASIS 40gbps NVMe M.2 SSD enclosure, feel free to leave them below. I would love to hear from you and share my experience with this amazing device. I can wholeheartedly recommend the ACASIS 40gbps NVMe M.2 SSD  Enclosure  an amazing piece of kit.
Please note I'm not affiliated with ACASIS and purchased the enclosure with my own money. 
Stephen
Purchase:
ACASIS 40Gbps NVMe M.2 Enclosure 
Purchase:
"By using Amazon affiliate links, you can support my review blogs without increasing the cost for the buyer, allowing me to continue creating content."